Any issue, pls talk to our online customer service. or whatsapp us , we don't check the message here offen.
Renovating or moving to a new house? One of the first question you may have in mind could be how to select a suitable TV wall mount for your living room, or even your bedroom. Worry not, in this post, we will go through some tips to aid you to find the TV Bracket in Singapore, that will suit your very needs.
Choosing a TV Wall Mount
Here are three things to look out for:
VESA Standards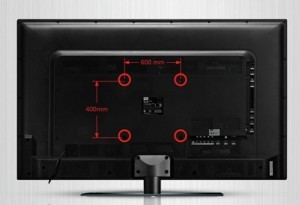 For the TV Wall Mounts sold by tvmountsg.com, they are all VESA-compliant, allowing you to easily select and mount your VESA-compatible TVs to our TV Wall Mounts. The VESA standards make sure that such mounts and TV are completely interchangeable.
Range of VESA standards can be from the following but not limited to: (75mm x 75mm or 100mm x 100mm,  200 x 200mm, 300 x 300mm 400 x 400mm  600 x400mm)
How to Find out the VESA Measurement of my TV
Simply search for your TV model online, and look for the specifications page.

Usually, you will be able to find the VESA Wall Mount Compatibility specs under the accessory or others section of the TV specifications. Most TVs sold in Singapore follow the VESA standards, so do not worry that your TV does not suit our mounts.
Manually Measuring the Mounting Hole Dimensions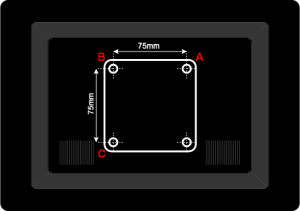 Measure Point A to B, followed by Point B to C. For this example, it will be 75mm x 75mm. From there, you can browse through our range of products and select one that fits your TV.
Weight Capacity
Other than VESA Dimensions, please take note of your Television's weight and ensure that our TV Mount's max weight capacity can hold the TV.
However, with the rise of Slim LED TVs, this should not be a problem for most TV mounts. For example, a branded 48″ TV weighs only 11.4kg without the stand, which is definitely something that our TV brackets can handle easily.
Type of Wall Mount
It is important to know which type of Wall Mount you are looking for, and whether it suits your room design. For example, if you need to position your TV at different angles, you can consider our range of Full Motion TV Wall Mounts with the functions of extend, tilt and swivel for your TV. Otherwise, a Fixed TV Mount will suffice for most households.
---
This comes to the end of our tips for choosing the perfect TV wall mount for your house. Have any questions, or require recommendations for the next TV mount for your TV, feel free to contact us and our professional team will be able to assist you. Be sure to check out our great range of products for all your TV Mounting needs!